Alec Baldwin claims gun enhancement in fatal 'Rust' shooting charge 'unconstitutional': 'Basic legal error'
Alec Baldwin's legal team filed a new motion to remove a firearm sentencing enhancement in the charges brought against him, claiming it is unconstitutionally based on a law passed after the shooting on the "Rust" set.
 "The prosecutors committed a basic legal error by charging Mr. Baldwin under a version of the firearm-enhancement statute that did not exist on the date of the accident," a court filing from Baldwin's attorneys said.
However, the Santa Fe District Attorney's office proclaimed that Baldwin and his attorneys were attempting to distract from the negligence and "reckless" disregard for safety that led to the death of cinematographer Halyna Hutchins.
ALEC BALDWIN SUED IN 'RUST' SHOOTING: HALYNA HUTCHINS' FAMILY SAYS 'TO LEAVE THIS UNPUNISHED IS UNALLOWABLE'
Baldwin's attorneys argued the firearms enhancement was not a part of the law when the fatal shooting of Hutchins occurred, and that he could not legally be punished retroactively, according to court documents obtained by Fox News Digital.
Legal experts explained to Fox News Digital why Baldwin's defense chose to file this motion.
"The government can't pass a law and retroactively punish someone under that law," former federal prosecutor Neama Rahmani explained to Fox News Digital. "The judge is likely going to toss that enhancement and so Baldwin is just looking at a maximum sentence of 18 months in jail. Baldwin is facing less of a legal risk, so he has a lot of leverage going into a trial."
"The original law that was on the books was very specific in the way it defined 'brandishing,' and Baldwin was clearly not in violation of that law, or he would have been charged as such," Ted Spaulding, personal injury lawyer, told Fox News Digital. "Prosecutors were likely searching for something similar that they could charge him with when they found this newer version of the law that, interestingly, has a harsher sentence of five years and looked like something they could win at trial." 
ALEC BALDWIN 'RUST' SHOOTING INVOLUNTARY MANSLAUGHTER CHARGES: HIS 4 BIGGEST MISSTEPS
"The only issue is the bill was passed months after the shooting took place, and laws cannot be retroactively applied."
The new filing comes days after Baldwin's legal team argued special prosecutor Andrea Reeb should be disqualified from the impending trial.
The motion, obtained by Fox News Digital, argued Reeb could not simultaneously serve as the special prosecutor and as a member of the New Mexico House of Representatives.
"Doing so vests two core powers of different branches – legislating and prosecuting – in the same person and is thus barred by the plain language of Article III of the New Mexico Constitution," the legal documents read.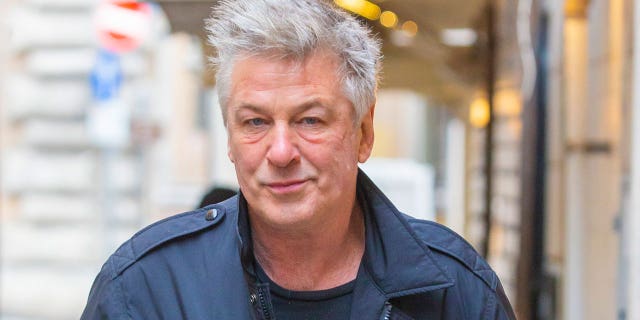 ALEC BALDWIN'S INVOLUNTARY MANSALUGHTER CHARGES: DA REVEALS WITNESS LIST IN FATAL 'RUST' SHOOTING
The legal team claimed having Reeb serve in both positions could create precedent that distorts the legislative process.
"Were the arrangement here approved by the courts, future District Attorneys could seek to curry favor with legislators who control their budgets by appointing them to high-profile cases – distorting the legislative process," Baldwin's lawyers wrote.
Baldwin's legal team also filed a motion Tuesday demanding a speedy trial and requesting the defense hand over evidence.
The "30 Rock" actor was charged with two counts of involuntary manslaughter on Jan. 31 in connection to the death of Halyna Hutchins. The cinematographer died on Oct. 21, 2021 after a gun Baldwin was holding fired on the set of "Rust" in New Mexico.
He is set to make his first court appearance on Feb. 24. Baldwin could appear virtually during the hearing, which will be livestreamed on YouTube.
Prosecutors laid out their case against Baldwin in specific detail in the probable cause statement released Jan. 31 and obtained by Fox News Digital.
"Baldwin's deviation from known standards, practice and protocol directly caused the fatal death of Hutchins," the documents state. 
CLICK HERE TO SIGN UP FOR THE ENTERTAINMENT NEWSLETTER
"By not receiving the required training on firearms, not checking the firearm with the armorer, letting the armorer leave the firearms in the church without being present, deviating from the practice of only accepting the firearm from the armorer, not dealing with the safety complaints on set and/or making sure safety meetings were held, putting his finger on the trigger of a real firearm when a replica or rubber gun should have been used, pointing the firearms at Hutchins and Souza, and the overall handling of the firearms in a negligent manner, Baldwin acted with willful disregard for the safety of others and in a manner which endangered other people, specifically Hutchins and Souza."
CLICK HERE TO GET THE FOX NEWS APP